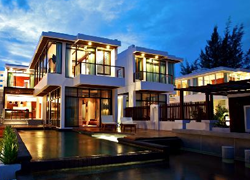 Not everyone wants to buy property in Hua Hin. Some expats prefer to lease the property. What is best for you might not be best for someone else and its best to view leasehold and purchasing as options. The laws in Thailand tend to change from time to time and many expats prefer to lease a property in Hua Hin rather than to buy. Leasing a property is not a bad idea if you have never lived in Thailand and does give you the option that should Thailand not appeal to your later, you can simply cancel or stay out the lease without the hassle of trying to sell a property.
You might also want to stay on in Thailand and decide to live in Thailand on a permanent bases. This of course makes a lease great and you could then simply negotiate a price for the property you are living in. Many expats lease rather than buy the property and might look at buying the leased property later.
Before the governments door right now are Hua Hin property developers who wish to have the laws changed. Leasehold agreements in Thailand tend to be limited to 30 years. This does not negate the possible of simply doing leasehold agreements back to back but the property developers feel that 30 year leaseholds are to short. They are proposing that government allows leasehold to be extened to at least 70 years and many other Asia countries allow very long leaseholds. Longer leaseholds they say makes the Thai property market very attractive to foreigners. With more than 100,000 Swedes in Thailand as expats the ScandAsia website has stated that many also wish the government to look again at the possible of changes to certain corporate laws with regards to ownership and to open the Thai property market even more.
If you are looking at leasing in Thailand, speak to one of our lawyers in Hua Hin with regards to leasehold agreeemnts and what the benefits are of leasing rather than buying. Have your lease agreement reviewed and ensure that you have exit clauses and possible options to purchase later. Call us on our tollfree US and UK telephone numbers, speak to us online on our main website or visit us at any of our office in Thailand. Do it now!