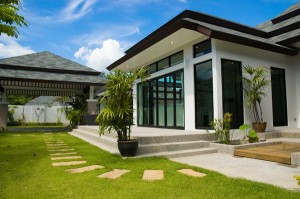 Thai property has been in the middle of a boom all of this while investments in Spain have gone South. If you bought property in Thailand 5 years ago there is no doubt that you would have doubled your investment by now. The latest news in Thailand property circles is that the value of the transaction taking place has increased this past year in the middle of a global downturn. Phuket was the clear leader with more than 2 Billion Baht changing hands in property transactions over the past 12 months alone.
That is a huge amount of money for such a small island. Hua Hin even though not as large has shown a property value increase of more than 30% in the last 2 years alone. Property in Hua Hin and Phuket has always been a good investment. With the government spending huge amounts of money to attract foreign capital it is clearly paying off.
Thailand has over the past 3 years seen a shift in the market especially where the market is limited by space available such as in Phuket, a rise in super condos taking off. Hua Hin has seen a similiar trend with regards to very high end condo and villa developments. Thailand has become so attractive an investment that foreigners are pouring huge amounts of money into Thailand. This started off small many years ago however the marketing, changing of laws and infrastructure development by the Thai government has clearly paid off very well for Thailand.
You are now seeing more and more of the high end dvelopments on the market such as the 100 million Baht villa and condo developments. If you are considering retiring in Thailand, best to buy a property and lease the property until such time that you are ready to move in. Speak to any of our lawyers in Hua Hin about the Thai property market and your options with regards to leasing or buying property in Thailand. Call us now!